Spun from the best cottons
Our Organic Cotton Threads are made of Extra Long Staple Organic Pima cotton fiber grown without use of chemical pesticides.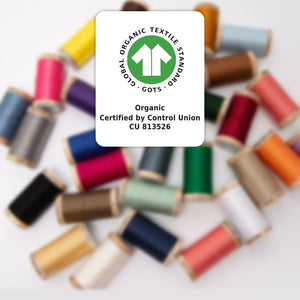 Certified Organic by
GOTS | Global Organic Textile Standard
GOTS certified to ensure sustainable and ethical textile production - worker-friendly and good for the planet.
Why organic?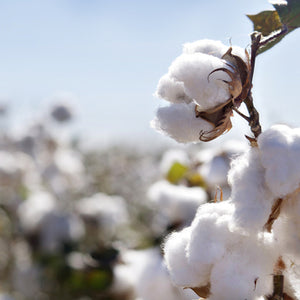 We care for
the health of people and the environment
Our Organic Cotton is biodegradable and recyclable, requires less energy and water to produce, and is responsibly grown.
Why does this matter?
THE
ORGANICS
Hand and machine sewing and quilting
100% extra long staple Pima Cotton
300YDS | 275M
30/2 WT
Natural Wood Spools
GOTS Global Organic Textile Standard
FOR OUR THREAD ARTISTS
Scanfil thread is the best thread for the memories you make…whether you sew, embroider, quilt or craft.
Make-Ups are shown in yards and meters.  Our natural wood spools are designed to serve you well.
And don't be fooled by the price – this is the mercerized, very low in lint, ultra smooth and strong thread you love.
So, the best thread, PLUS the best value.
We call it the thread that's too good to be true…but isn't!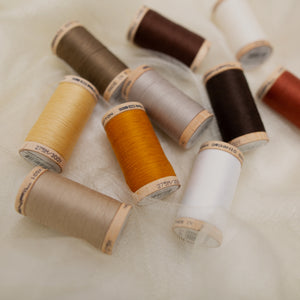 Scanfil Fine Thread
ABOUT US
The Scanfil brand was founded in The Netherlands in 1970.  Our company remains family owned, and we continue to manufacture all of our threads in Europe.  Our state-of-the-art facilities and innovative thinking allow us to produce the finest thread you will find, by methods that are safest for our employees and kindest to the environment. 
Shop All